COURSE FULLY UPDATED WITH ALL OF THE LATEST ETSY TOOLS & DEVELOPMENTS!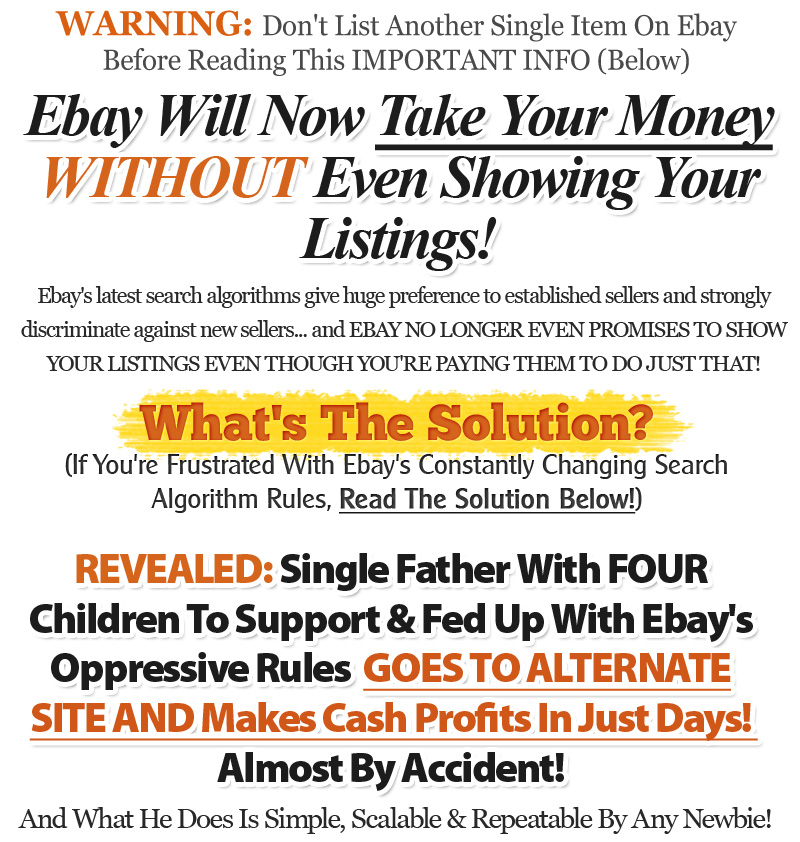 Here's The Scoop...
If You Want To FINALLY Have A High Profit Unique Newbie Friendly Profitable Online Business That Is SIMPLE TO START & Run...
That AT LONG LAST Can Truly
Make YOU REAL CASH MONEY!
Now You Have One!!
Tell eBay To Take A Hike!
Open A Floodgate Of PROFITS
With Your OWN
FREE Online ETSY STORE
TODAY!
(NO Technical Skills Needed)


Contrary to what all the "Guru's" are saying,
making money with Online Listings
DOESN'T have to be complicated!
...It can even be FUN!
Especially If You Use ETSY
Instead Of Ebay!!
(If You Don't Know What ETSY Is, See Below!)
Now DON'T Get Me Wrong...If you ARE making money with Ebay, keep doing this!!...But If You're Not ALSO USING ETSY For ADDITIONAL CASH, You Are Leaving TONS OF MONEY On The Table!
On The Other Hand, If You've TRIED Ebay & FAILED, Realize IT'S NOT YOUR FAULT!
Ebay's "Search Algorithms" are stacked against new sellers making it very difficult for newbies to 'break into' the EBAY market!
NOT SO WITH ETSY!!
Etsy Has Been Around For Enough Years That It Is WELL ESTABLISHED & Has LOADS Of BUYER TRAFFIC.
YET It Is Still New Enough (And Growing FAST!) So That There's STILL Plenty Of Room (And Profits!) For Thousands Of New Sellers!
And ETSY Favors New Sellers As
Much As Established Sellers!


Etsy Basics - 101:
For those that don't know, ETSY is a site where people can sell handmade items, or vintage items - anything more than 20 yrs old (AND you DON'T have to make the items yourself! - This course shows you how to EASILY acquire popular vintage items for pennies and easily flip them On ETSY for TENS or even HUNDREDS of dollars)...Etsy let's you list a limitless number of items and also lets you set up a FREE ONLINE STORE! (Or Stores! - You can have more than one!).
Etsy merchants sell everything from physical or digital Collectable Vintage Art Prints (which you can get for just pennies or even for FREE), to Handmade Jewelry, Soaps, Clothing, Pet accessories (even Day & Meal Planners!) and a zillion other things!


ADVANTAGES OF ETSY OVER EBAY


ETSY sellers (in my humble opinion) enjoy many ADVANTAGES over Ebay sellers!
You can create ETSY Stores For FREE! (No technical skills needed!)



ETSY has super Cheap Listing Fees (20 cents covers you for FOUR MONTHS!) Say you have a dozen widgets for sale...you can list them ALL for 4 full months for just 20 cents!!...not 20 cents each, but rather just 20 cents for the whole lot!)



Fixed Price Listings! (No need to attract "bidders"... YOU set your prices to what YOU want...NOT just what "bidders" are willing to pay...)



UNLIKE Ebay, ETSY allows you to sell DIGITAL items that your customers can instantly download...ETSY Even HOSTS Your digital products FOR you!



Etsy allows your customers many more payment options than Ebay offers their customers which increases YOUR sales!



Etsy lets you offer incentives such as coupons, reduced shipping on multiple items, quantity discounts and other buying motivators to increase sales, multiple sales and repeat sales!



ETSY has many on site social functions that allow you to EASILY draw continuous streams of hungry BUYERS to your listings.
If you want to spend LESS MONEY (Even virtually ZERO money upfront!), make HIGHER Profit Margins, Earn MORE money SOONER, Have MORE Selling options, Have Your OWN Online store(s) FREE with NO Website or technical skills needed, PLUS get incredible support & helpful resources, then...
ETSY IS FOR YOU!
Introducing: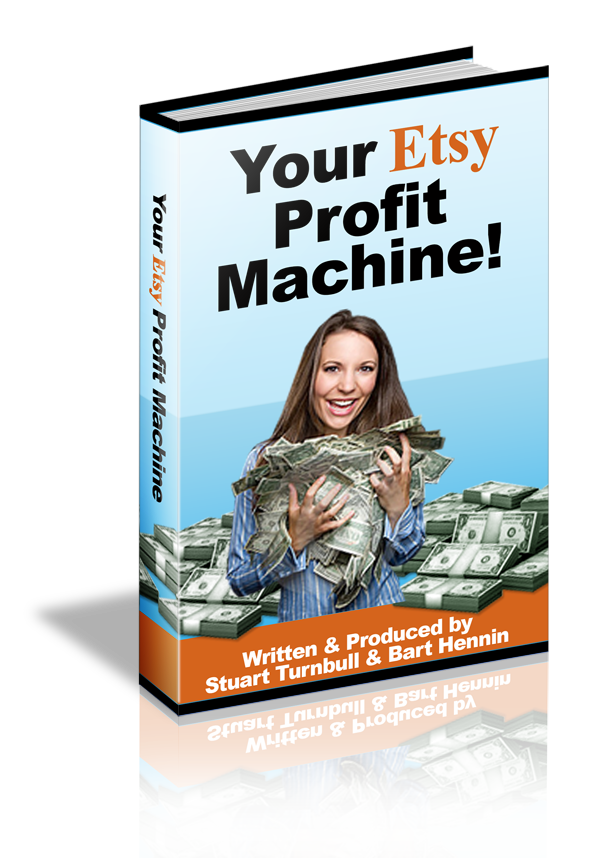 Your Etsy Profit Machine!
Turn Etsy Into Your Own Personal
Goldmine TODAY!
$$$$$$$$$$$$$$$$$$$$$$$$$$$$$$$$


Get Immediate Access
(Even If It's 2 am!)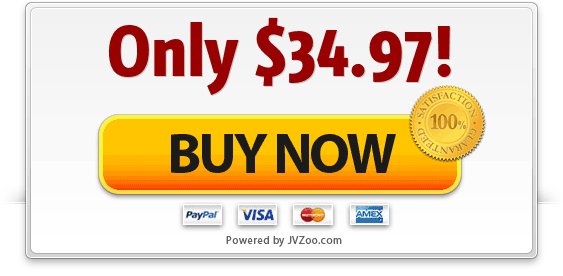 Thank you Stuart,
I have spent most of last night and to-day reading 'Your Etsy Profit Machine!' and am overwhelmed with its detail and prospects. At 10.30 on Saturday evening I am trying to retrieve my brain to work out exactly what I am going to do with it all!
Stuart, congratulations on a masterful contribution to the fortunes of anyone who applies the detailed information you have so ably compiled.
Regards
,
James Macdonald, UK


STUART!!!!!!!!!!!

WOW!!!!

YOUR "ETSY PROFIT MACHINE" IS POSITIVELY OUTSTANDING!!! WHAT A WEALTH OF DETAILED INFORMATION!!!

CONGRATULATIONS ON YOUR INCREDIBLE EFFORT TO PUT THIS PACKAGE TOGETHER!!!

YOU'RE THE ABSOLUTE BEST!!!


GEORGE DERR, USA

THIS NEWBIE FRIENDLY INFO PACKED COURSE...
Shows You Exactly How You Can Make
Excellent CASH Income FAST
By Simply Using What Is NOW CONSIDERED BY MANY EXPERTS To Be The Best,
MOST POWERFUL And Easiest To Use
Online Selling Site On The Entire Internet!
ETSY!
AND THE BEST PART IS:
You Can Finally Make An Excellent Online Income
With NO WEBSITE NEEDED!
PLUS These High Profit Etsy Selling Methods Are SIMPLE To Implement
& Will Work For Anyone!
<![if !vml]>


This Ground Breaking COMPREHENSIVE Yet Easy To Follow Guide Contains EVERYTHING You Need To Know From A-Z To MAKE LUCRATIVE PROFITS FAST With ETSY!<![endif]>

I just purchased 'Your Etsy Profit Machine!' last week.

I've only had time to implement a few of you suggestions, such as, getting one free with multiple purchased.

I am already seeing a wonderful increase in number of sales and all have taken advantage of the free print.

Thank you so much for making your techniques available to us. I've got to finish the book and follow more of your suggestions.

Sincerely,
Jann Schwarz, US

In This over 100 page course..
I'll Show You How To EASILY Get Tons Of Excellent HIGH DEMAND Products For Just PENNIES That Sell Like Hotcakes On ETSY For TENS or Even HUNDREDS Of Dollars!
That's 300% - 1850% PURE PROFITS!
And If You Don't Have "Pennies" To Spend On ETSY Products That's OK!
Because I'll Even Show You How To Get UNLIMITED POPULAR ETSY PRODUCTS For FREE! - That Can Be Sold Fast At High Prices For Quick Profits & Lets You Pocket 100% Of The CASH !
I'll ALSO Show You How To EASILY Create Powerful ETSY Listings Fast That Are Irresistible To Viewers.
AND I'll Show You TONS Of Super Simple Ways To Draw Lots Of HUNGRY BUYERS To Your ETSY Store Too!
That's NOT ALL!
I'LL Also Show You How To Get REPEAT & MULTIPLE SALES
From The SAME Buyers Over And Over and Over Again!
And I'LL Show You How To Tap Into ETSY's "Social Scene" (The RIGHT Way) To Quickly Ramp Up Your Sales & Profits!
I'LL EVEN Show You How To EASILY Tap Into The Power Of FaceBook To Draw In TONS MORE BUYERS & Create An AVALANCHE OF ADDITIONAL PROFITS!
Best Of All!...
I'll Reveal How Even A Complete Newbie Can FIND TONS OF Hidden HIGH PROFIT ETSY Niches Fast.


So You Don't Get TRAPPED Into Wasting Your Valuable Time On DEAD END Product Listings
(Like So Many Others)
You Get EVERYTHING YOU NEED To Make ETSY PROFITS FAST! GUARANTEED.

Get Immediate Access
(Even If It's 2 am!)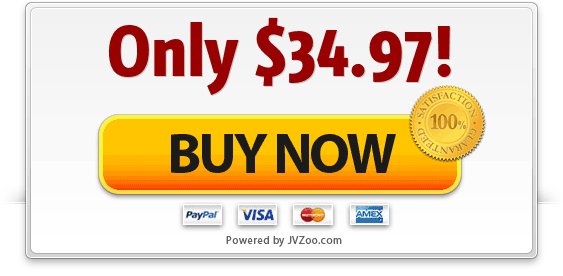 But Don't Take My Word For It
Here are what actual users of this course have to say!




Stuart's teaching and well researched information products, based on years of experience, have really helped me to establish my vintage bookplates/prints selling business online. I always eagerly look forward to his next product and he has delivered and never disappointed me.
His meticulous and detailed teaching gave me the confidence to start selling bookplates in the first place and the impetus and passion to develop further in this field. This year I started to sell on Etsy and Stuart's tips and information about Etsy have been priceless. Each selling platform has its quirks and Stuart is right there with Etsy.
Anne Groom
Wigton Cumbria UK


Hi Stuart, just wanted to thank you for the excellent insight you provide for making the most of my Etsy listings. I had about 20 or so prints languishing at Etsy for several months and couldn't seem to figure out why they were not selling, as the same type of prints were selling just fine on eBay.
Thanks to your suggestions about identifying and catering to the target market on Etsy - which is considerably different than the target market on eBay - I made some adjustments, discontinued the 'duds' and began to search out and purchase prints that are more in line with the interest of the Etsy buyer.
As a result, I am now getting considerably more attention and traffic to my Etsy offerings - increased views, increased 'favorites' both in items and my shop. I am expecting great sales this coming holiday season!
Many thanks for your sound advice...
Nanette
New Mexico, USA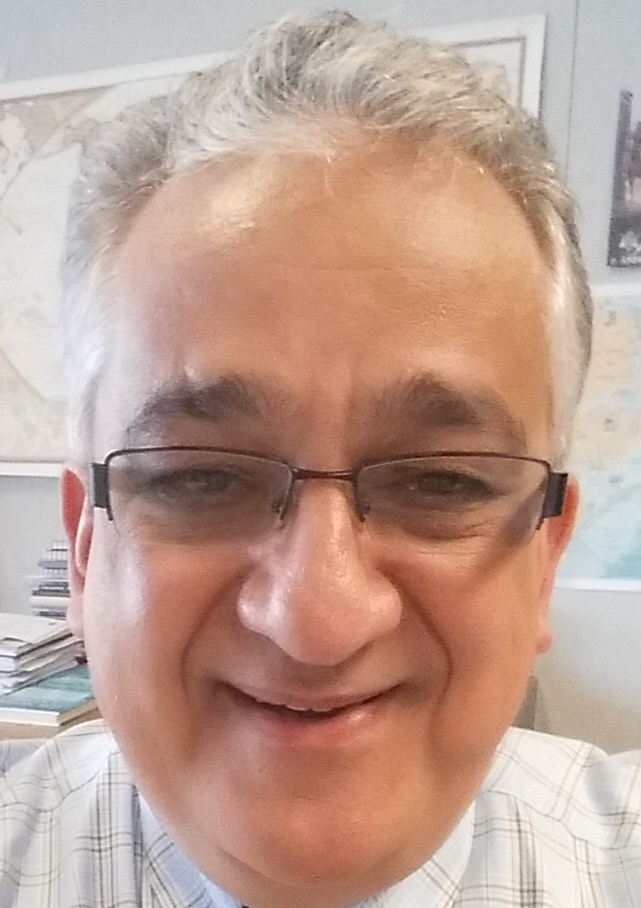 Stuart is one of a kind, Not only did he help me set up my own shop on Etsy, I am so excited to have started making sales thanks to his tips and advice on finding hot Etsy niches.
I purchase all of Stuart's e-books and guides because they are an Excellent way to learn what sells and how to sell it on Etsy.
Hoss Khavari
Virginia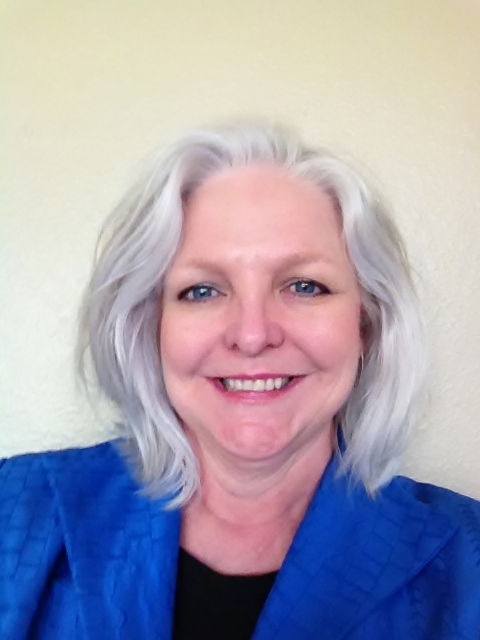 Hey Stuart,
I opened an Etsy Shop in 2009 and did nothing with it. After you wrote about your success on Etsy, I decided to see if I could create sales and interest in my prints.

So far I have sold 7 prints, have 222 followers and 312 admirers.

I am sure that I will sell more as I learn how to use the Etsy platform and drive traffic to my store following the methods and strategies in your book, thanks for all the work you do to help us be successful.
Joy to you,
Laura Long
East Texas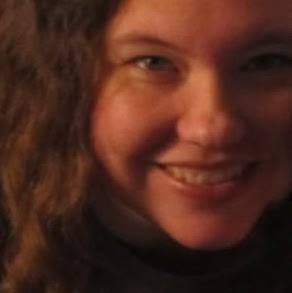 After learning from you how easy and fun it is to have a prints business, I started sourcing prints to sell on ebay and have done quite well. When you first mentioned selling your prints on Etsy, I was quite intrigued. I opened an Etsy store for my prints business after reading your tips about expanding our businesses.

Very quickly after listing my prints for sale on Etsy, I made my first sale!

Although I am just in the beginning stages of getting it going, I am so excited to have another income stream and another platform to sell on.

Looking forward to more info about your Etsy success!
Dana Duggar
Florida

AND THERE'S MORE!
Several Chapters of this course even show you how & where to get TONS of high profit vintage items for pennies or even for FREE that you can then sell for tens to hundreds of dollars!

That's 300% - 1850% profits!

This ALONE Is Worth More Than The Low Price Of This Entire Course!


In This Comprehensive Course You'll Learn...
How to EASILY find tons of profitable niches fast so you don't waste time listing things that won't sell, and also so you start making higher sales and higher profits sooner!





How to source hot high demand products from your computer for pennies and sell them for tens of dollars or even hundreds of dollars of PURE PROFIT!





How To Make Profits WITHOUT A Website and WITHOUT technical skills!





Secret "Instant Cash" Tips For Sourcing & Selling Digital Products On Etsy (NO shipping, Instant profits!)



Why Etsy Produces Higher Profits With Less Effort



How To Acquire Rare And Popular ORIGINAL Vintage Prints For As Little As A Dollar Or Two And Resell Them For $10-$35 Or More!



How To Create Or Acquire Your Own Exclusive "celebrity" Prints Free Or At Very Low
Cost For Resale 90%-100% Pure Profit (WITHOUT Violating Copyrights!)





How To Acquire Vintage Goods (Locally) For Additional ETSY Profits!



How To Write Irresistible Listings That Will Have People Clamouring To BUY From You!



How To Increase People's "Perceived Value" Of Your Products So You Can Get Higher Prices!




You'll ALSO Learn...
The Psychology Of Etsy Buyers & What makes Them BUY (This ALONE will put you ahead of 97% of Etsy sellers!)





How To Get BIGGER Sales, MULTIPLE Sales and REPEAT Sales



How To KNOW and PROVE An Etsy Niche Is Making Lots Of Money BEFORE You Invest Your Time & Effort Into It





How To Use ETSY "Tags" To Attract Buyers & Make Sure Your Listings Are Found By TONS Of Buyers!





Hot To EASILY Tap Into ETSY's On Site Social Functions To Get OTHER PEOPLE Recommending Your Items.





How To Tap Into The POWER Of Facebook to MAKE MORE ETSY CASH!



How To Create A Stunningly Beautiful FB Fan Page In Just 5 Minutes and how to get hundreds or even THOUSANDS of REAL fans FREE in just days!



What To Post On Your Fan Page & How To Make CASH From Your FB Posts!





How To Embed Your ETSY Store right onto your FB page FREE With NO TECHNICAL SKILLS!



How "Simple Creative Packaging" Can Bring You Even MORE Sales & Profits!



How To Use The Power Of Simple Email Marketing (Via Your Own Etsy Shop Newsletter) to EXPLODE Your sales and profits.





And Much More!
YOU'LL ALSO LEARN THE PITFALLS THAT CAN KILL YOUR ETSY SALES (and PROFITS!)
Faster Than You Can Say "What Happened?!?"
(And You'll Learn How To AVOID These Traps!)
You'll Learn...
Why Refunds Are Not A Bad Thing & How To Deal With Them Efficiently



How To Deal With Negative Feedback & Turn It Into A Positive Commentary That Actually Generates MORE SALES!





A "Simple Technique" You Can EASILY Employ That Will Create An Avalanche Of Positive Feedback For You & Plummet Your Refund Rates Too!
And much more!!!
You'll ALSO GET Several Amazing Money Making Bonuses Included FREE (See Below)
Hello...
My name is Stuart Turnbull. and I have teamed up with fellow marketer and Social Media expert Bart Hennin. Together, we've put together something very special for you...
Neither of us are "professional copywriters", so all we can do is tell you straight out what this NEW Etsy Course is...
To State It Bluntly, This is a MASSIVE Yet EASY TO UNDERSTAND ebook Of over 100 comprehensive yet easy to understand pages ( With Links To FREE Instructional Videos, FREE Tools, and FREE Resources To Speed Up Your Success) that includes everything you need to know to make excellent Income From listing high profit items on ETSY.
By the end of this high quality, no fluff course, you will know how to profit big from the Etsy marketplace. You'll learn how to make short term CASH while building an even more profitable long term business! With this info packed guide, we put you in on the ground floor...well actually BETTER than the ground floor... We put you in the lobby, on the elevator, and on your way UP!
What do I mean by this? Simply that NOW is the perfect time for you to get into the Etsy business! Etsy has been around for a few years now and has a strong following BUT it is still new enough to have plenty of opportunity!
Etsy is an 'open' marketplace full of opportunities to make fast and ongoing profits. Sellers offer "fixed price listings" so you don't have to worry about trying to attract "high bidders". On Etsy, YOU control your own prices!
Buyers are allowed (and encouraged) to give feedback ratings that are made public. Used right, this will hugely increase your sales & profits!
As we shall see, Etsy's built in 'social sharing' (when tapped into properly) allows sellers to boost their traffic (and sales!).
This newbie friendly guide shows you everything you need to know from "A to Z" to start and run a highly profitable Etsy store chock full of highly popular unique products! And NOW is the time to get started! Don't ignore this guide and be kicking yourself 3-5 years down the line at a 'missed' opportunity.

Take action today while Etsy's high earnings marketplace is still wide open!
It's A Marketer's DREAM!


In this course, you'll learn the insider secrets to...
Finding tons of amazingly profitable product niches that will make you money fast.



Finding lots of "hot" high demand products to offer in your Etsy Listings that buyers will pay premium prices for.





Setting up your own "uniquely themed" professional & attractive Etsy Store that other sellers will envy.





Creating awesome offers that Etsy buyers will find irresistible.





EASILY promoting your listings for free to hungry buyers (both within Etsy itself and also by using Email and/or Facebook).





Getting multiple sales, repeat sales, and more money per sale!



Virtually eliminating refunds and boosting your positive feedback ratings through the stratosphere.



Using email to build a customer list you can sell to again and again!



Grow your business to any "size" you wish!
And much more...
And It's NEWBIE FRIENDLY!
Etsy is a very newbie friendly site, and offers lots of online help and support for its sellers and buyers alike. Etsy, unlike Ebay (which in my opinion tends to discriminate against new sellers), makes it easy for new Etsy sellers to enter the marketplace profitably.
And It's SO SIMPLE TO DO!
You can promote EXCLUSIVELY on Etsy's website using their many social tools, and/or promote off site (for additional profits!) using a single FB fan page dedicated to a single niche (OR MULTIPLE fan pages dedicated to MULTIPLE niches!)
FAN PAGES ARE SO EASY TO BUILD & PROMOTE! (This course shows you how and it's simpler than you think!). And EACH fan page can promote a store full of highly popular ETSY products for you too!
The course even shows you "How To Embed Your Etsy Store(s) Right Into Your FB Pages To Create Instant Sales!
SEE "INCLUDED FREE BONUSES" BELOW!
WITH THIS COURSE, You can promote PHYSICAL products which I show you how to get for pennies or even for FREE) OR You can promote DIGITAL products (which I also show you how to get for FREE) and not have to worry about shipping!
ETSY even HOSTS your digital products on their site for you for FREE so you don't have to worry about having a website!
And NOW is the BEST time to get started! Don't ignore this course with all its resources and be kicking yourself 3-5 years down the line at a missed opportunity.
Take action today and establish yourself NOW (and PROFIT HANDSOMELY!) while it's still relatively easy to do!
Get Immediate Access
(Even If It's 2 am!)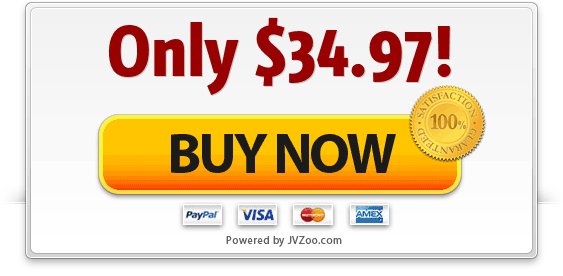 More Stuff You'll Learn...
How to "cross promote" your products by using & combining cool Etsy features with the POWER of Facebook! (easier than it sounds!)



How to EASILY embed your ENTIRE ETSY STORE onto your FB page!
(NO technical skills needed!)



How to EASILY add an email opt-in form onto your FB page(s) to build a LOYAL customer list you can sell to over and over!





How to 'scale up' your business to any "size" you wish.





How to manage multiple shops for added profits!
And much much more....
You'll discover Newbie Friendly FREE TOOLS that will make posting to multiple Web 2.0 platforms a total breeze AND also make tracking your results easy as pie! (so you can reach tons more hungry buyers for tremendous added profits!)
And It's ALL Much Easier Than It Sounds!
So Stop Wasting Your Time With What Doesn't Work!
And GET YOUR ETSY PROFIT MACHINE GOING TODAY!
Get Immediate Access
(Even If It's 2 am!)
But That's Not All!
I Wanted To Make This A
'No Brainer' For You


So I've ALSO Included NOT 1, NOT 2, BUT 3 (THREE!!!)
Incredible BONUSES!!! (Worth $235.00) FREE!
There's no elegant way to say this...
These Bonuses are Simply Amazing!
(And will make you even MORE Profits Faster!)

AMAZING BONUS 1
–
Anatomy Of An Irresistible eBay/ETSY Offer
Turn Your Skeptical Viewers Into Avid Repeat Buyers!
*
(This FREE Bonus ALONE Is Worth More Than The Entire Course!)*
<![if !vml]>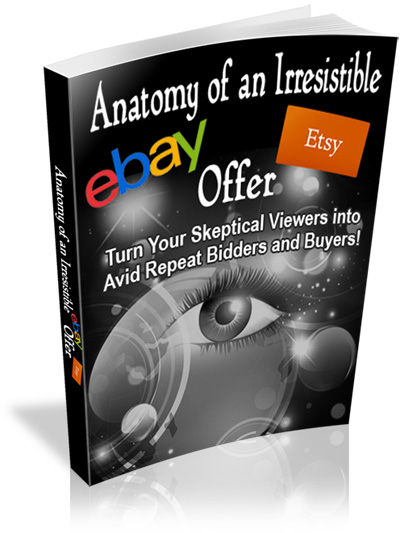 <![endif]>
If you've ever wanted to be able to EASILY create POWERFUL product descriptions that turn skeptical viewers into RABID HUNGRY BUYERS, you'll simply love this guide!

(Even if you're a complete Newbie).

Let's face it...no matter what you decide to sell on ETSY (or Ebay), the success of the listing always comes down to making your offer so irresistible that people will scramble to BUY!

Your item descriptions must contain so much "perceived value" that your prospect's decision to buy becomes a 'no brainer'.

This FREE BONUS guide shows you how to do that in SPADES!
(No matter what the product!)

This Amazing Guide Shows You...

How To Stand Out From The Pack And Crush Your Competition... (pg 7)

How To Strongly Persuade Your Visitor By Echoing Their Beliefs.... (pg 11)

How To Easily Differentiate Yourself From Your Competition......... (pg 13)

How To Get Inside Your Visitors' Heads &
Get Them To Do Anything You Want.......................................... (pg 16)

How To Write Persuasive Titles With A Hook To Grab Attention..... (pg 31)

How To Increase Your Productions' Perceived Value
(This one's so simple you'll slap yourself!).................................. (pg 36)

How To Create A Sense Of Scarcity &
Urgency So Your Customer Buys NOW....................................... (pg 38)

How To Write For "Skim Readers" So They'll STILL BUY!............... (pg 43)


Even without these tips, product listings will sell, BUT by applying just a FEW of these great BONUS GUIDE TIPS, you will explode your conversion rates! (and profits!!)






AMAZING BONUS 2
–
How To EASILY Get THOUSANDS Of REAL
FB Fans
For ANY FB Page
(In UNDER 10 Days)
FREE

(Spending Just 21-31 Minutes/Day!)
<![if !vml]>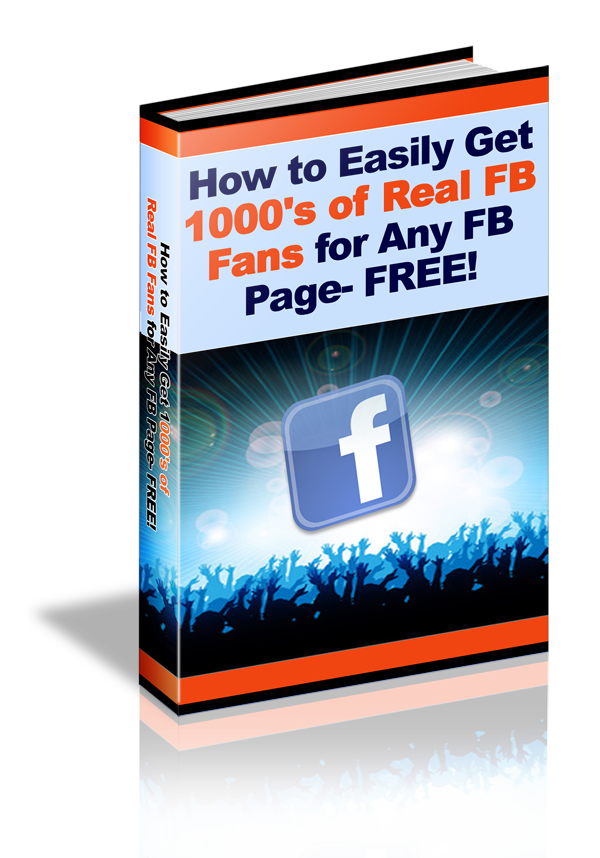 <![endif]>
If you're not using the POWER Of Facebook to tap into TONS MORE BUYERS, you're losing out on a tremendous amount of additional ETSY profits. But how do you get TONS of loyal fans?

EASY...This guide shows you how!

WITHIN THESE PAGES, you'll learn EXACTLY how to get THOUSANDS of REAL FB FANS FREE (using a unique and stupid simple to do method!).



Whether you choose to make money online by

Affiliate Marketing...
Email Marketing...
CPA...
Adsense...

Or selling your own products on ETSY (Easiest!)

You need lots of TARGETED TRAFFIC.

Facebook Fan Pages are an EXCELLENT way to get VERY targeted traffic for ALL of these! But again, HOW DO YOU GET FANS??

SIMPLE... Read this guide!

It contains everything you need to know to drive hundreds and even THOUSANDS of loyal fans to YOUR fan pages...FREE!

The clever method revealed in this guide takes just 21 to 31 minutes a day for only 10 days and WHAMMO...you have floods of REAL FB Fans for FREE!

BONUS Benefit!

As you will see, you can easily adapt this method to get TONS of traffic to your blogs, squeeze pages, or other content sites too!




AMAZING BONUS 3
–
EXCLUSIVE "Golden" Interviews With
TOP Etsy Sellers
18 TOP Etsy Sellers In 18 HIGH PROFIT Yet FUN Niches
REVEAL Their Inspirations & Success Secrets
(And Let You See Their Shops Too!)
<![if !vml]>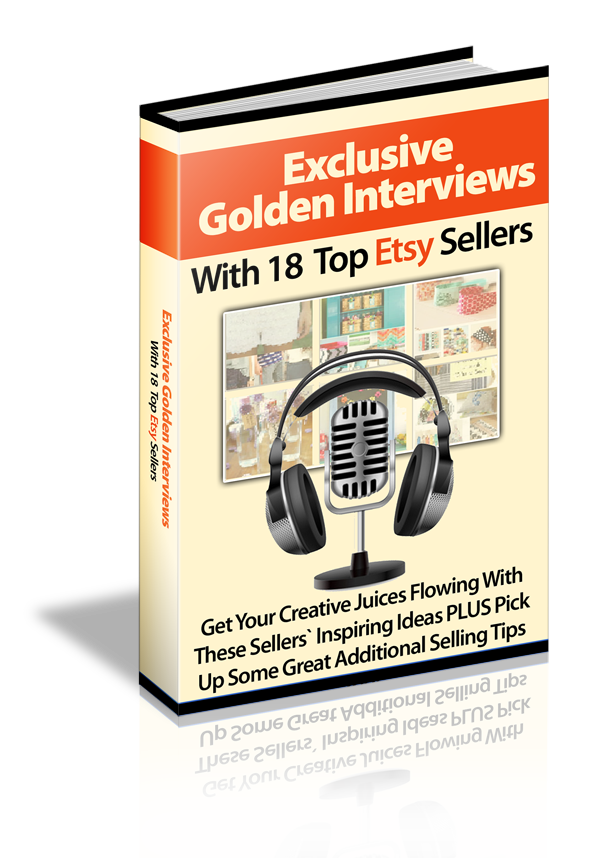 <![endif]>What would you "pay" to sit down and talk with NOT "one", but EIGHTEEN (18!!) highly successful Etsy sellers?

In this valuable one of a kind BONUS guide, I twisted the arms of 18 highly SUCCESSFUL Etsy shop owners and asked them to talk about their wares and reveal what inspired them.





They ALSO reveal how they got started with Etsy & HOW THEY SUCCESSFULLY PROMOTE their listings!





These are ordinary people just like you and I, but with EXTRAORDINARY ETSY SUCCESS!





And they reveal their secrets to YOU personally! (PLUS they let you see inside their actual Etsy stores!)

This guide is chock FULL of great shops and inspirational ideas! It presents example after example after example of attractively fashioned, high profit Etsy shops for your leisurely perusal!

If you want to get your own "creative juices" flowing with an avalanche of incredibly inspired Etsy store & listing ideas, this UNIQUE beauty of a guide will be YOUR FAVORITE BONUS RESOURCE!





(Easily a $ 67 VALUE and it's yours FREE!)

(HINT: Don't "copy" their products or shops outright, but rather use them as examples to inspire your OWN grand ideas!)

OH Yeah, There's ONE MORE Thing You Get!
I want you to be able to buy with COMPLETE CONFIDENCE!

So I TAKE ALL THE RISK FOR YOU!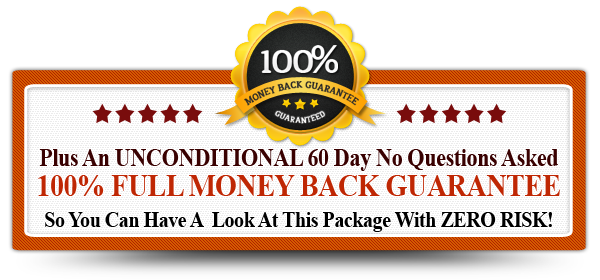 I am so confident that you will LOVE THIS COURSE and PROFIT HANDSOMELY from it that I am giving you a FULL UNCONDITIONAL 30 day 60 day "NO Questions Asked" 100% REFUND GUARANTEE.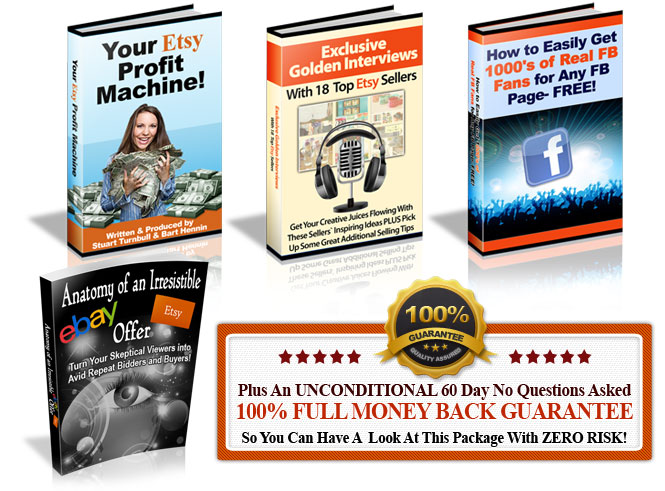 If you aren't fully satisfied (and in fact THRILLED) with this course package and everything it contains, I will GLADLY refund you in FULL so you are not out one single penny!
So you can take an in depth look at this entire course with ZERO RISK! We're that confident you will SUCCEED with this incredible course!
Get Immediate Access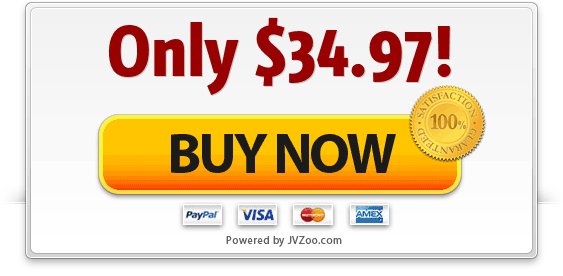 So Now You Have A Simple Decision....
And An OPPORTUNITY...
If you were to BUY all the books above separately they could EACH (EASILY) cost you $47-$97 APIECE!...That's $188.00 to $388!! AND your collection would STILL BE LACKING because you wouldn't have all the FREE links to exclusive free tools, video tutorials and resources included in THIS course!
You Get The Over 100 Page Info Packed Main Guide, Your THREE Bonus Guides, Links To TONS Of Free Tools, Resources & VIDEO TUTORIALS, And Your FULL 60 Day No Questions Asked 100% Refund GUARANTEE!
AND You can acquire this COMPLETE Money Making Package TODAY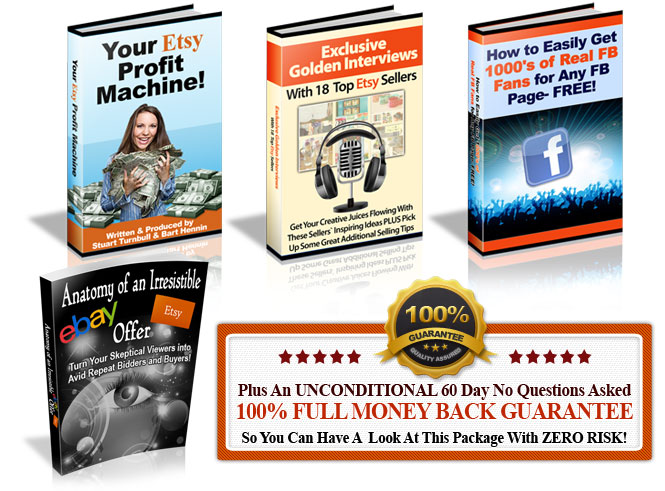 For JUST...
Get Immediate Access
(Even If It's 2 am!)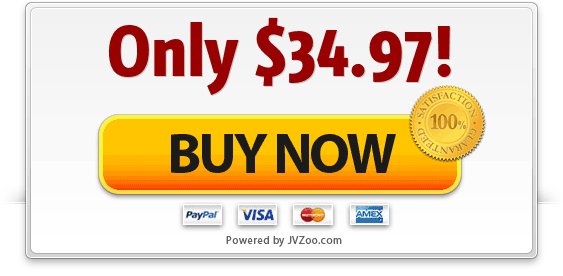 PS – Are You A Tire Kicker? Or An Action Taker?
You can "delay" and pay a HIGHER price later, or "strike while the iron is hot" and click the button for INSTANT DOWNLOAD NOW. You'll get this entire in depth course immediately & also get your invaluable exclusive bonuses too (included FREE!)
When you acquire your OWN copy of this incredible course TODAY you can get started making profits virtually immediately! You can be CONFIDENT that this huge package will thrill you tremendously!
Rest assured everything in this course is TOP QUALITY. We spent literally HUNDREDS of hours putting this course together for you (and hundreds more hours putting the bonuses together). We then spent HUNDREDS MORE HOURS searching for the BEST FREE TOOLS AND FREE ONLINE RESOURCES to help you so nothing would stand in the way of your success.
After that, we spent even HUNDREDS MORE HOURS polishing everything and making it easier to understand and faster to implement.
THEN we slapped on an incredible FULL Money Back 60 DAY 100% NO QUESTIONS ASKED GUARANTEE so you could look at this course with ZERO RISK.
AND FINALLY, We slapped on an embarrassingly LOW price on the whole shebang!
You get ALL THIS...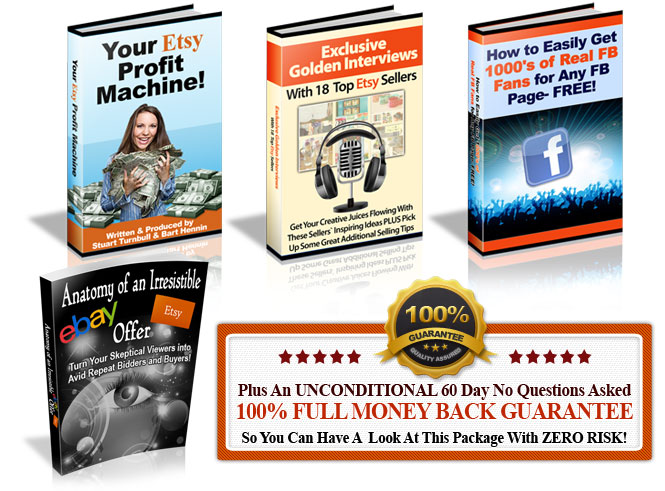 FOR JUST THIS...
Get Immediate Access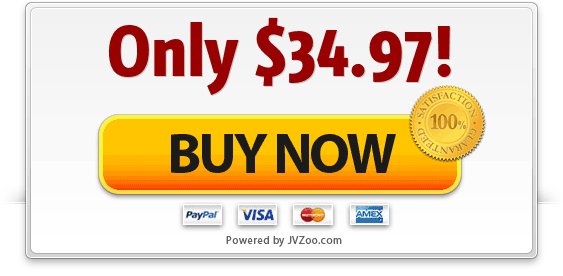 FAQ:

How much money will I have to spend to start making money?
Very little! We designed this course to make people money with a BARE MINIMUM of out of pocket expenses. Since this course shows you how to acquire high demand products for just pennies, and even for FREE, there is little to ZERO upfront expense for "inventory".
Your ETSY store is also completely FREE.
The ONLY "expense" you must pay 'upfront' is your ETSY listing fee (just 20 cents covers you for FOUR FULL MONTHS. And if you have more than one of a given item, you still pay only 20 cents to list the WHOLE LOT! If you start out listing ten different items, just $2 has you covered for 1/3rd of the year!
Is this course newbie friendly?
Absolutely yes! ANYONE can do this.
Will advanced ETSY marketers also benefit from this course?
Absolutely yes! In SPADES!

Can this course be completed internationally?
Yes! You can make money with the techniques shown in this course from any country in the world with an internet connection, PayPal and a connection to Etsy.com!

Is this difficult to do?
No. But you must take action. We show you in a step by step format everything you need to know & do to be highly successful, AND we give you many different options. Anyone can do this. If you work consistently you will see results!

Who is this Course suited to?
This comprehensive course is suited to everyone from novice right up to experienced ETSY marketers. I assure you that even advanced ETSY sellers will learn many awesome approaches & methods from this course.
Yet this course is also written in a clear, simple, step by step manner so as to not leave even a complete newbie behind.

Can these methods become saturated?
Absolutely not! There are so many options, so many physical and digital products to promote in so many niches, sub-niches, and sub-sub-niches AND SO MANY STORE BRANDING OPTIONS AVAILABLE that you couldn't POSSIBLY even come remotely close to saturating these methods ever.

What is your refund policy?
Our refund policy is super simple: We take all the risk FOR you. You have a FULL 60 days to use and review your comprehensive course.

If, for any reason, you are not fully satisfied and in fact, completely thrilled with the exciting info contained within this package of four comprehensive guides, you get a FULL 100% no questions asked refund.

Your happiness is worth much more to us than a few dollars, so we're more than happy to honor this guarantee. We're that confident you'll love this course and SUCCEED with it!




If you'd like to talk to me personally about any aspect of 'Your Etsy Profit Machine',
my Skype ID is stuart_turnbull or drop me a line at: stuart@stuart-turnbull.com